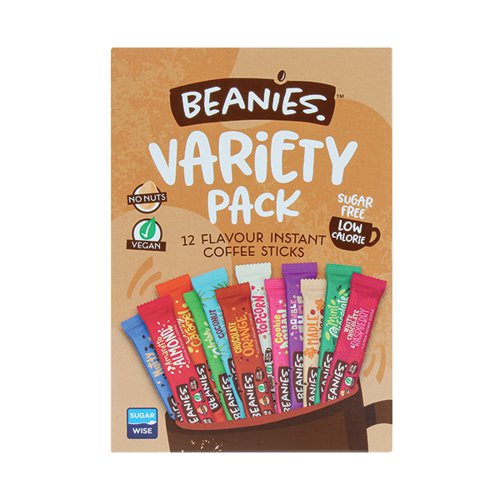 Manufacturer Beanies The Flavour Co Ltd
Free delivery on all orders over €70+ Vat. Delivery 1-3 working days on standard items, and up to 10 working days delivery on furniture, furniture accessories and technology (e.g. printers & scanners).
Description
Beanies coffee stick sachet selection box contains 12 single serve sachets of our best selling flavours. Whether you take them for on-the-go, stash them at home or take them for your office drawer with them you will have a delicious cup of coffee to enjoy. 2g instant flavour coffee sachets in 12 assorted flavours. Low calorie and sugar free.
Specifications
Beanies The Flavour Co Ltd
Shipping Details
For all furniture and furniture accessories:
Free Delivery on orders over € 70+VAT Estimated delivery: 10 working days
For all technology gadgets such as printers and scanners:
Free Delivery on orders over € 70+VAT Estimated delivery: 10 working days
For all other office and stationery products:
Free Delivery on orders over € 70+VAT Estimated delivery: 1-3 working days