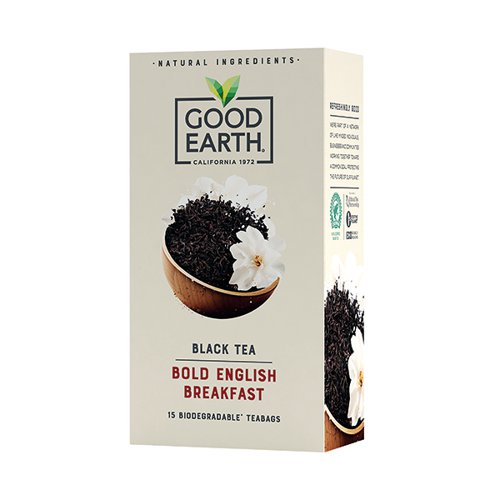 Manufacturer Tata Consumer Products GB Ltd
Free delivery on all orders over €70+ Vat. Delivery 1-3 working days on standard items, and up to 10 working days delivery on furniture, furniture accessories and technology (e.g. printers & scanners).
Description
Good Earth Bold English Breakfast Black Tea, good for any time of day. String and tag bags. All natural ingredients. With eco friendly packaging. Sustainable, compostable and biodegradable, good for the environment. Vegan friendly. Pack of 15 teabags.
Specifications
Tata Consumer Products GB Ltd
Rainforest Alliance (Y/N)
Shipping Details
For all furniture and furniture accessories:
Free Delivery on orders over € 70+VAT Estimated delivery: 10 working days
For all technology gadgets such as printers and scanners:
Free Delivery on orders over € 70+VAT Estimated delivery: 10 working days
For all other office and stationery products:
Free Delivery on orders over € 70+VAT Estimated delivery: 1-3 working days