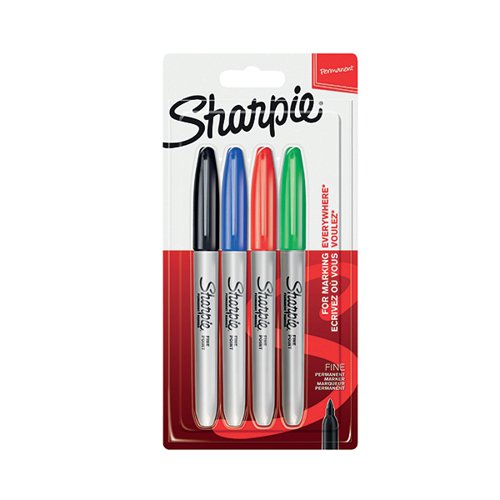 Manufacturer Newell Brands
Free delivery on all orders over €70+ Vat. Delivery 1-3 working days on standard items, and up to 10 working days delivery on furniture, furniture accessories and technology (e.g. printers & scanners).
Description
This Sharpie Marker has a fine nib, for precise, detailed, permanent writing on a variety of surfaces. The permanent ink is abrasion, UV ray and water-resistant, for long lasting clarity. This pack contains 4 assorted markers in black, blue, red and green, each with a line width of 0.9mm.
Specifications
REACH Requires Health & Safety Data Sheet
Shipping Details
For all furniture and furniture accessories:
Free Delivery on orders over € 70+VAT Estimated delivery: 10 working days
For all technology gadgets such as printers and scanners:
Free Delivery on orders over € 70+VAT Estimated delivery: 10 working days
For all other office and stationery products:
Free Delivery on orders over € 70+VAT Estimated delivery: 1-3 working days