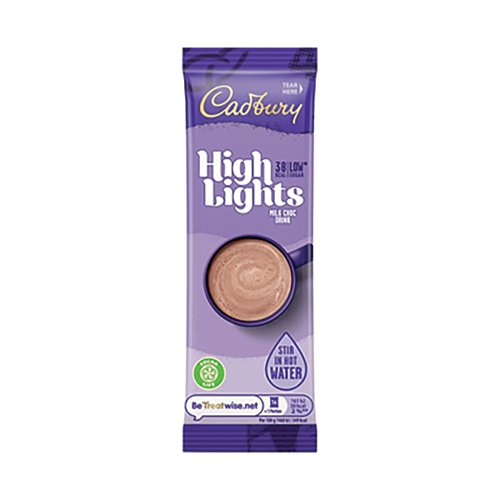 Manufacturer Mondelez International
Free delivery on all orders over €70+ Vat. Delivery 1-3 working days on standard items, and up to 10 working days delivery on furniture, furniture accessories and technology (e.g. printers & scanners).
Description
The Cadbury Highlights Drinking Chocolate Sachet is the ultimate indulgence with none of the guilt. Deliciously smooth and creamy hot chocolate, these sachets contain all of the rich cocoa flavour of Cadbury chocolate, but only 38 calories per serving. Easy to make by simply adding hot water, the sachet ensures the perfect amount of powder for a drink that is neither too weak nor too strong. This bulk pack contains 30 sachets for office or home indulgence.
Specifications
Caffeinated/Decaffeinated
Shipping Details
For all furniture and furniture accessories:
Free Delivery on orders over € 70+VAT Estimated delivery: 10 working days
For all technology gadgets such as printers and scanners:
Free Delivery on orders over € 70+VAT Estimated delivery: 10 working days
For all other office and stationery products:
Free Delivery on orders over € 70+VAT Estimated delivery: 1-3 working days