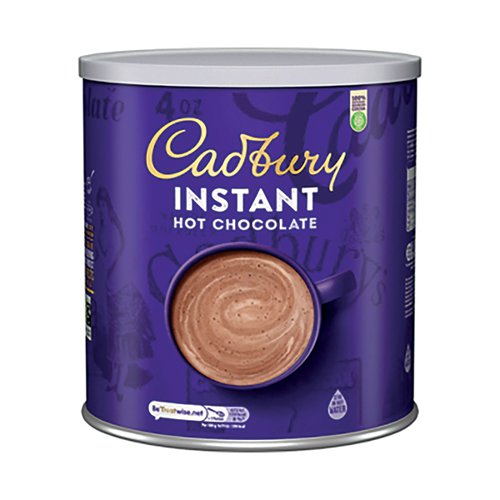 Manufacturer Mondelez International
Free delivery on all orders over €70+ Vat. Delivery 1-3 working days on standard items, and up to 10 working days delivery on furniture, furniture accessories and technology (e.g. printers & scanners).
Description
The UK's favourite instant hot chocolate, this drink contains the delicious and distinctive Cadbury chocolate taste. Easy to make by simply adding hot water, this 2kg pack is ideal for both work and home enjoyment and provides a delightful alternative to tea and coffee. This bulk 2kg pack will produce approximately 70 servings.
Shipping Details
For all furniture and furniture accessories:
Free Delivery on orders over € 70+VAT Estimated delivery: 10 working days
For all technology gadgets such as printers and scanners:
Free Delivery on orders over € 70+VAT Estimated delivery: 10 working days
For all other office and stationery products:
Free Delivery on orders over € 70+VAT Estimated delivery: 1-3 working days