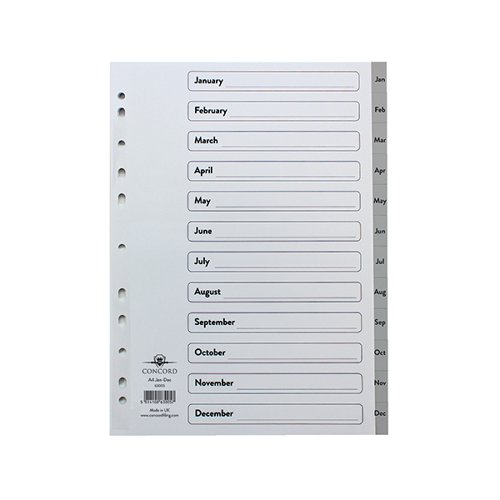 Manufacturer Pukka Pads Ltd
Free delivery on all orders over €70+ Vat. Delivery 1-3 working days on standard items, and up to 10 working days delivery on furniture, furniture accessories and technology (e.g. printers & scanners).
Description
Pre-printed with the months January to December, Concord 12-Part Jan-Dec Grey Polypropylene Indexes are the practical and hard wearing choice for your ring binders and lever arch files. Made of high quality polypropylene, these indexes are tear resistant and can be wiped clean for long-lasting use. Euro punched with 11 holes and including a reinforced contents page with numbered entries, these indexes fit to a variety of A4 filing mechanisms and are ideal for organising your documents by month.
Specifications
RoHS Compliance Certification Reference
Shipping Details
For all furniture and furniture accessories:
Free Delivery on orders over € 70+VAT Estimated delivery: 10 working days
For all technology gadgets such as printers and scanners:
Free Delivery on orders over € 70+VAT Estimated delivery: 10 working days
For all other office and stationery products:
Free Delivery on orders over € 70+VAT Estimated delivery: 1-3 working days