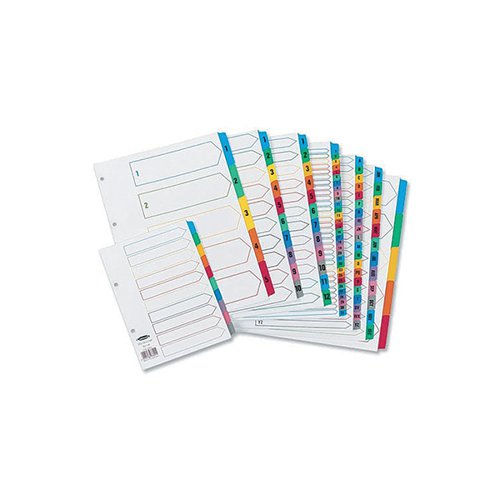 Manufacturer Pukka Pads Ltd
Free delivery on all orders over €70+ Vat. Delivery 1-3 working days on standard items, and up to 10 working days delivery on furniture, furniture accessories and technology (e.g. printers & scanners).
Description
This Concord 50 Part 1-50 Multicolour Index provides numbered organisation to A4 lever arch files and ring binders. They offer a bright, colour-coded way to organise your documents with numbered tabs and a easy to use index cover. Each divider is made from strong board with Mylar reinforced tabs and holes to protect against rips and tears. The tabs are numbered for quick access to the relevant section when looking up files. They are punched with 4 holes to fit most lever arch files and ring binders.
Specifications
RoHS Compliance Certification Reference
Proof of Legality Obtained
Contains timber or derived materials
Shipping Details
For all furniture and furniture accessories:
Free Delivery on orders over € 70+VAT Estimated delivery: 10 working days
For all technology gadgets such as printers and scanners:
Free Delivery on orders over € 70+VAT Estimated delivery: 10 working days
For all other office and stationery products:
Free Delivery on orders over € 70+VAT Estimated delivery: 1-3 working days