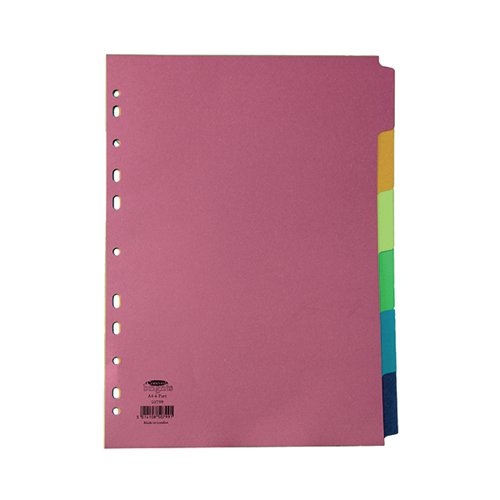 Manufacturer Pukka Pads Ltd
Free delivery on all orders over €70+ Vat. Delivery 1-3 working days on standard items, and up to 10 working days delivery on furniture, furniture accessories and technology (e.g. printers & scanners).
Description
These Concord 6-Part subject dividers are ideal for arranging and indexing your presentations, projects, filing and notes with staggered tabs to separate documents into sections that are easily written or typed on for quick identification. These dividers are made of heavyweight 230 micron board making them the hard wearing and are punched to fit almost any lever arch folder or ring binder.
Specifications
Proof of Legality Obtained
Contains timber or derived materials
Shipping Details
For all furniture and furniture accessories:
Free Delivery on orders over € 70+VAT Estimated delivery: 10 working days
For all technology gadgets such as printers and scanners:
Free Delivery on orders over € 70+VAT Estimated delivery: 10 working days
For all other office and stationery products:
Free Delivery on orders over € 70+VAT Estimated delivery: 1-3 working days