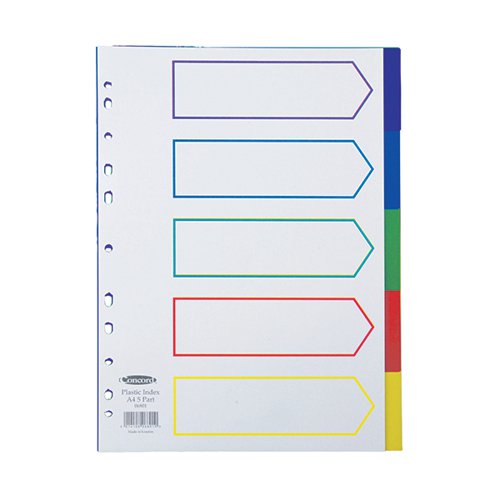 Manufacturer Pukka Pads Ltd
Free delivery on all orders over €70+ Vat. Delivery 1-3 working days on standard items, and up to 10 working days delivery on furniture, furniture accessories and technology (e.g. printers & scanners).
Description
This durable Concord polypropylene divider set is hard-wearing, tear resistant and wipes clean easily. The white 5 part dividers features multicoloured tabs which is ideal for implementing an organised filing system. The A4 dividers are multipunched to fit standard ring binders and lever arch files for quick and easy reference. This pack contains one 5-part set of dividers.
Specifications
RoHS Compliance Certification Reference
Shipping Details
For all furniture and furniture accessories:
Free Delivery on orders over € 70+VAT Estimated delivery: 10 working days
For all technology gadgets such as printers and scanners:
Free Delivery on orders over € 70+VAT Estimated delivery: 10 working days
For all other office and stationery products:
Free Delivery on orders over € 70+VAT Estimated delivery: 1-3 working days