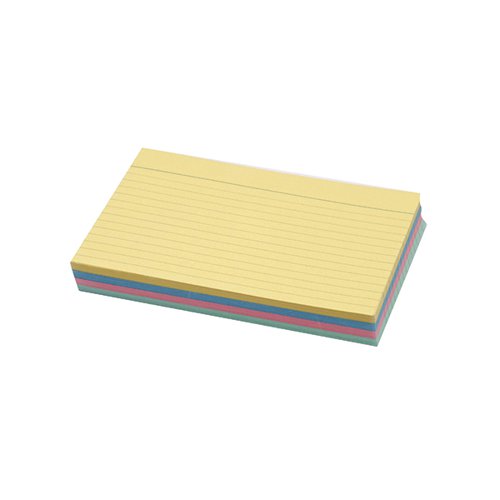 Manufacturer Pukka Pads Ltd
Free delivery on all orders over €70+ Vat. Delivery 1-3 working days on standard items, and up to 10 working days delivery on furniture, furniture accessories and technology (e.g. printers & scanners).
Description
Concord Record Cards have a multitude of uses including revision, prompts, archiving, indexing and storyboarding. Manufactured from 230 micron board, these records cards are of high quality and sturdy enough to last as long as you need them without losing integrity. They can be written on by hand or typed for further clarity. Supplied in a pack of 100 in assorted colours (25 each of blue, pink, green, and yellow), you can colour code your notes or create accurate records of information.
Specifications
Contains timber or derived materials
RoHS Compliance Certification Reference
Proof of Legality Obtained
Shipping Details
For all furniture and furniture accessories:
Free Delivery on orders over € 70+VAT Estimated delivery: 10 working days
For all technology gadgets such as printers and scanners:
Free Delivery on orders over € 70+VAT Estimated delivery: 10 working days
For all other office and stationery products:
Free Delivery on orders over € 70+VAT Estimated delivery: 1-3 working days