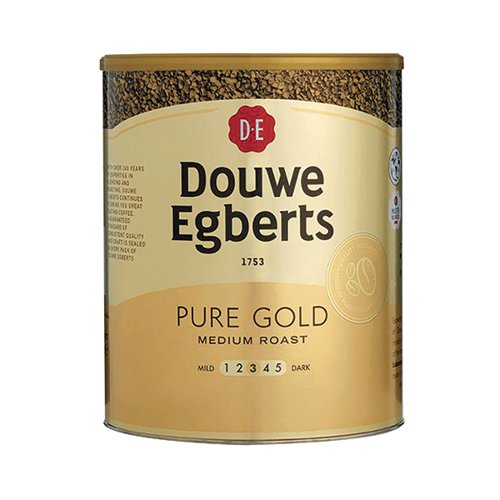 Manufacturer Douwe Egberts
Free delivery on all orders over €70+ Vat. Delivery 1-3 working days on standard items, and up to 10 working days delivery on furniture, furniture accessories and technology (e.g. printers & scanners).
Description
Made from carefully selected Arabica beans, Douwe Egberts coffee features a renowned rich and aromatic taste. Roasted using expertise built up over centuries and freeze-dried to capture maximum flavour, every cup of coffee has been carefully developed for rich and balanced tones. Kept in a resealable catering tin to retain freshness, Pure Gold is the ideal coffee for guests and colleagues alike.
Specifications
Caffeinated/Decaffeinated
Shipping Details
For all furniture and furniture accessories:
Free Delivery on orders over € 70+VAT Estimated delivery: 10 working days
For all technology gadgets such as printers and scanners:
Free Delivery on orders over € 70+VAT Estimated delivery: 10 working days
For all other office and stationery products:
Free Delivery on orders over € 70+VAT Estimated delivery: 1-3 working days